Selecting a Washing Machine
Bringing home a washing machine in your home is nowadays a cumbersome and quite confusing task. With so many brands available, provide various functionalities of washing your clothes leads you in a dilemma to choose among them.
Thus we have made an effort to ease your task of selecting a washing machine among various brands available in the market to choose from.
We enlist various parameters you need to look at while selecting a washing machine from the technical point of view as well as an economic point of view so that you don't have to spend an extra penny from your pocket more than required.
First of all, let us consider some of the factors which you need to be assured of before purchasing a washing machine. This will bring in your find all the relevant prerequisites which your ideal washing machine must possess.
Features of Washing Machine
Fuzzy logic
This features help in full automation of your Washing Machine. It helps you in choosing feasible washing standards depending on the amount and type of your clothes. It helps you in regulating wash time, detergent type and quantity, stainer requirement etc.
Steam Wash
This is one of the advanced features of washing your clothes. It aids you in easy removal of dirt and stains which cannot be removed by normal wash. It is quite an advanced feature and available in washing machines which are comparatively high in the budget.
Quick Wash
In today's life, everyone is in a hurry and people doesn't have enough time. So this feature enables you to wash in a comparatively less time than normal washing.
Delay start
Soaking your clothes in the detergent for a while before washing can really improve the quality of your washing threefold. It helps in easy removal of stains and dirt out of the clothes. This type of washing is really suitable for clothes like mattresses and pillow covers. For soaking, delay start is the most helpful feature.
It allows starting the washing machine at a predetermined time. Washing machine fills the required amount of water, detergent and stops the machine until a predetermined time. In this time, clothes soak in detergent water and make getting rid of stains easily.
Wash settings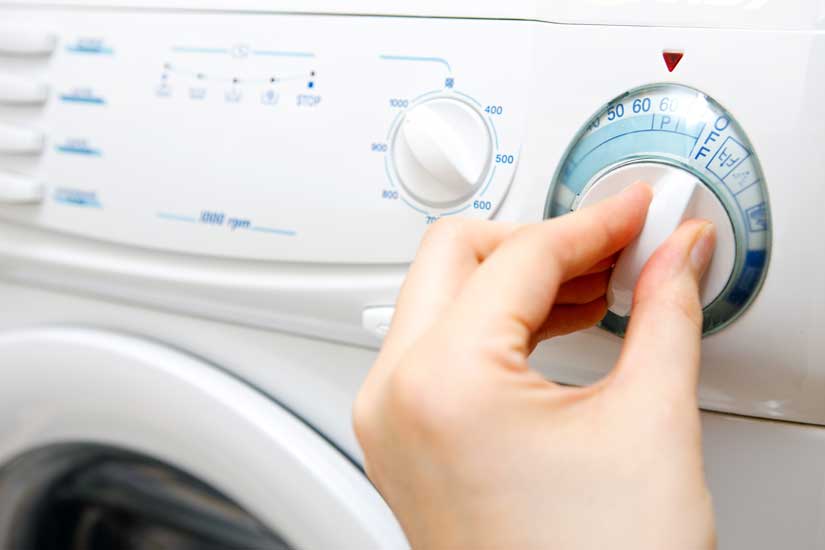 You can select from the number of options available for your washing. Some of the available washing machines come with wash programs like water level alternatives and gentle wash for frail clothes.
You can select from the touchpad available in your washing machine the type of washing depending on the type and quantity of your clothes. Washing machines with wash settings are the cheapest.
Washing tub material
The tub should be able to withstand high spin speeds and should be resistant towards rust. The tub is made of stainless steel, porcelain-enamel, or plastic.
Plastic tubs are surely the best to choose from as they are durable.
Nevertheless, the stainless steel tubs are the best, in view of the fact that they can withstand high spin speeds and they are the most long-lasting.
Spin cycle
The higher the number of springs in your washing machine per cycle, better is the drying of your clothes.
Temperature control
Washing with hot water is preferred because it helps in easy removal of dirt and stains off your clothes. Thus you have to ensure an optimal temperature so that your washing machine doesn't get damaged.
Having enlisted the important features which every washing machine must possess now let us discuss the type of washing machines available in the market depending on the required functionality of the machine.
With the advancement of technology, various smart features have already been launched in some of the latest models released recently of various different brands.
Broadly Washing Machines are divided into two broad categories as follows.
Types of the Washing machine in India
The washing machine is classified on the basis of functionality and human intervention.
Semi-automatic washing machine
Fully automatic washing machine
#1. Semi-automatic washing machine
This is an example of the entry-level washing machine. These contain mostly two tubs.viz. one for washing and subsequent for drying. In this type of washing machine, human intervention is required as the user have to manually transfer the washed clothes from the first tub to second tub.i.e. the drier.
It is quite economical as its price varies from 6,000 to 12,000 rupees in India. But you have to pay your comfort in this a lot of human intervention is required.
Pros of semi-automatic washing machine:
Economical: It is quite economical as it fits in your budget and ranges from 6,000 to 12,000 rupees in India.
Power Consumption: Consumes very less electricity compared to its counterpart washing machines. They are energy efficient machines.
Water efficiency: As water is poured manually, you can avoid the water wastage by pouring only the required amount of water.
Design: Semi-automatic washing allows add extra clothes even after wash cycle started, no need wait until the next wash cycle like happens in the fully automatic washing machine.
Cons of Semi Automatic Washing Machine:
Human Intervention and Manual Work: Need to pour water, move clothes one basket to the other all you need to do. Overall, it needs lots of human involvement.
Electrical Caution: In case of not properly earthed electricity connection, there can be a chance of electrical shock.
Fully Automatic Washing Machines They are further subdivided into two, depending on the form where clothes, laundry is loaded from top side or front side.
Types of Fully Automatic Washing Machines Available in India
1. Top load washing machine
2. Front load washing machine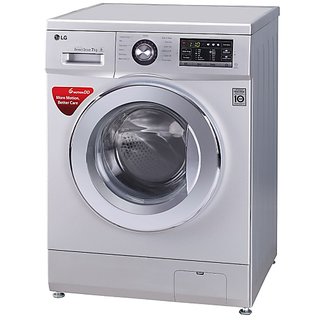 Fully automatic washing machines make human involvement minimal and it automates the washing process fully. It has only one tub for both washing and drying. Just you need to put clothes in washing machine and starts the machine, that's it.
Once having poured the required amount of water you will only need to refer to it once the washing process is completed which will be indicated by the buzzer.
Meanwhile, in these 15-20 mins, you can do some other kinds of stuff devoid of any tension of the clothes.No need to pouring water for wash or rinse and moves clothes from washing tub to drying tub. Only you need to get to the machine after the wash cycle starts is to take out the clothes.
PROS:
Nominal human intervention: Moreover, you can relax while washing clothes or even you can get it outside for shopping too. You can cook favourite snacks for your family. Washing machine automatically pours water for wash and rinse, dry the clothes and then switches off itself and will indicate you by ringing the buzzer.
Technology: Multiple washing functions, Fuzzy logic, inbuilt hot water supply and much more.
CONS:
Requires uninterrupted and continuous water supply.
Requires optimum water pressure.
Expensive.
Power Inefficient, Requires much more energy thus scaling up your electricity bill.
Having discussed the types and features of washing machines with relevant pros and cons lets get brief up about the size of the washing machine and accordingly the number of clothes that can be washed in one go. Here we tabulate the following details.
| Family size | Approximate capacity | Number of the clothes |
| --- | --- | --- |
| Single person or couples | 6kg | 2 shirts 2 jeans 1 bedsheet 2 small towels 2 pillowcases |
| The family of 3 members | 7kg | 3 shirts 3 jeans 1 bedsheet 2 small towels 2 pillowcases |
| The family of 4 members | 8kg | 4 shirts 3 jeans 1 bedsheet 3 small towels 3 pillowcases |
| Large family | 10+kg | 3 shirts 3 jeans 2 bedsheet 6 small towels 6 pillowcases |
Hope, the above information will help you in choosing a required washing machine that is best for you and has relevant functions.
All the above-discussed points are up to the marks and we have to make sure to not exaggerate the matter and get the best washing machine for yourself.