Remember that advertisement where Mr. Amitabh Bacchan quotes these lines: " ek din toh gujariye Gujarat mai", well since then gujrat has been on a bucket list of many people.
Gujarat comes under one of the most beautiful and well developed states of India. It is part of western India and has borders by Rajasthan to the north, MP (Madhya Pradesh) to the east, the Arabian Sea and the Pakistani province to the west and, Maharashtra to the south. The local language there used is Gujarati, people also do speak Hindi as well as English so there is no language barrier. Gujarat was also the home of Mahatma Gandhi and Vallabhbhai Patel.
All though Gujarati people wear all kinds of clothes but their traditional wear is lehenga choli for ladies and dhoti kurta for men. Young children wear fashionable clothes like jeans, skirts or tops.
Places to visit in Gujarat
1. Sabarmati Ashram / Mahatma Gandhi's Home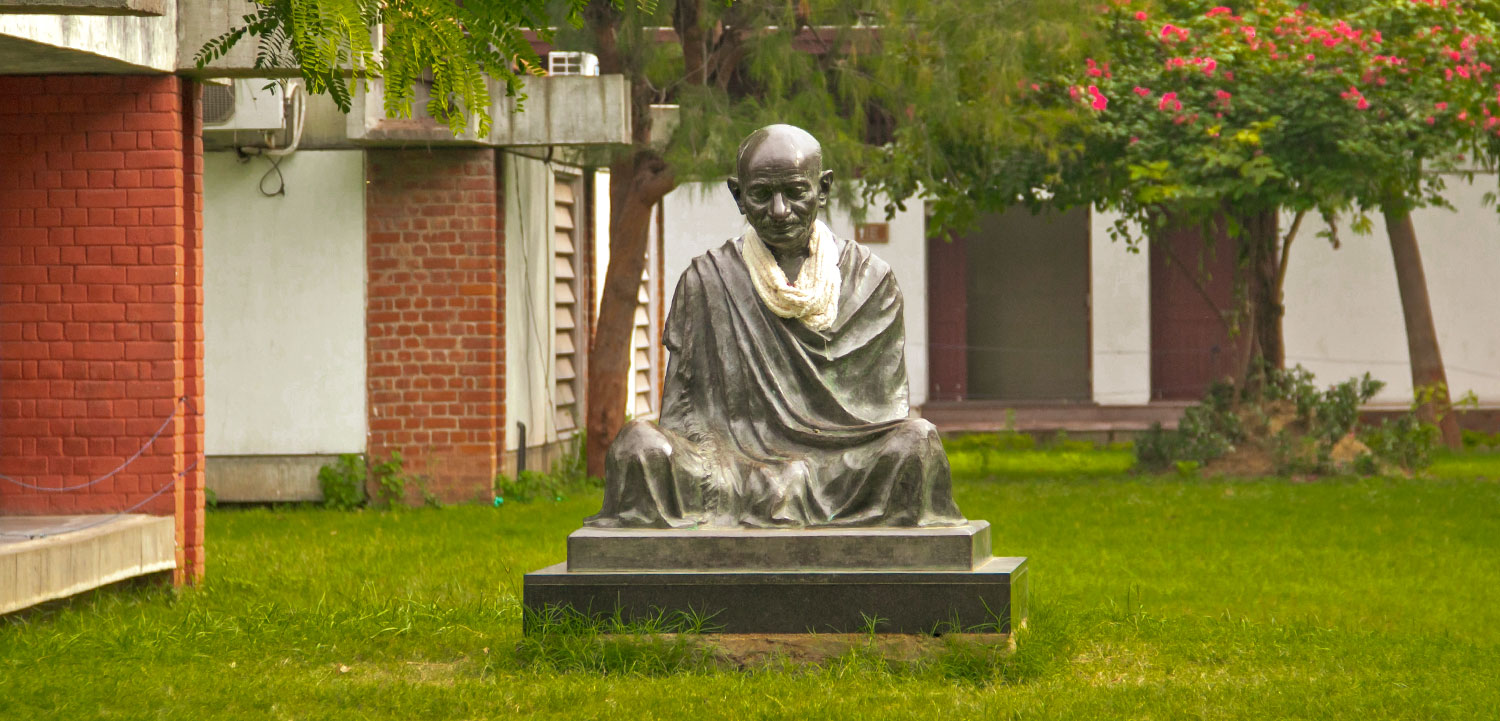 This place has a very good exhibition of Gandhiji's life and his time, place where the freedom was born. Ashram is well maintained with Gandhi ji's memories. This place shows the history of Gandhi ji and chronological incident which happened that time.
2. Modhera Sun Temple
The Modhera Sun Temple is one of the oldest temple of Gujarat and has finely sculpted kund. It is exclusively carved build from the late golden age of Gujarat.
One must visit there if you want a hustle free and peace life from the city.
3. Sidi Saiyed's Mosque
The Sidi Saiyyed Mosque is well known by the Sidi Saiyyid ni Jali. You can find finely carved window and magnificent stones, which are the main attractions. This is one of the oldest jali in Ahmadabad known and a heritage site too.
img src ~ ahmedabadtourism.com
4. Mahabat Maqbara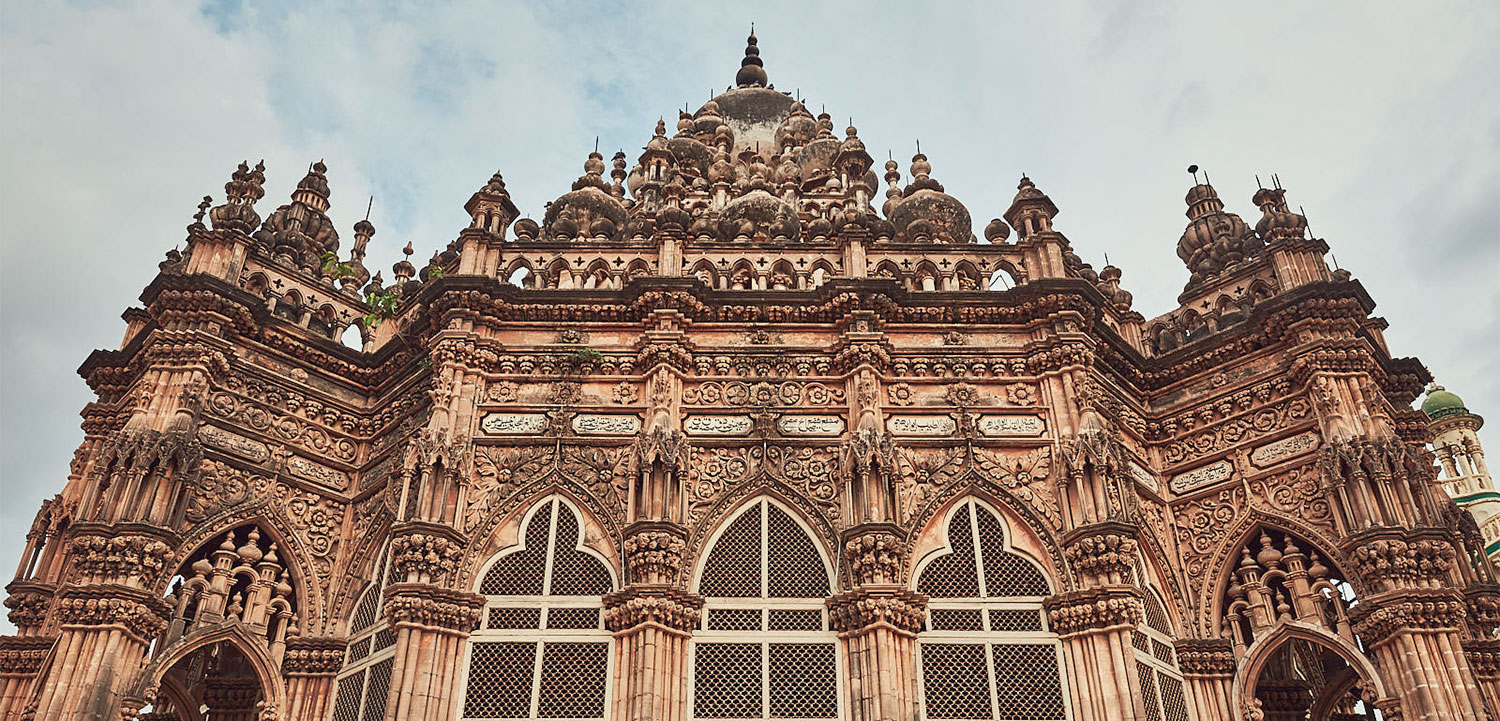 Mahabat Maqbara Palace, also goes by the name Mausoleum of Bahaduddinbhai Hasainbhai, is basically a mausoleum in Junagadh, India, which was once home for Muslim rulers and the Nawabs of Junagadh. It is quite an astonishing place to visit and shows true love towards architecture. The architecture with all kinds of curve and beautiful carvings is its speciality.
5. Dada Hari Ni Vav
The Dada Hari Ni Vav is Again a very beautiful and ancient architectural heritage in the middle of the city!! It is a Five storied, stone carvings but with no water though. The place is beautifully carved and peaceful. Not much people visit there thus making it crowd free. One must visit to watch this beautiful architecture.
6. Shree Jalaram Mandir
The Jalaram Mandir which is located in Virpur is basically a temple dedicated to the great saint Sri Jalaram Bapa. He at the age of 18 became a disciple of Shri. Bhojalram of Fatehpur.

since then, Jalaram Bapa, for his whole life served the needy and poor. After many years of serving he, with his guru's blessings, started "Sadavrat" a place where he feed all the need and poor for free. The mandir even today, feed poor and needy people for free.
This Mandir is actually the real home and work place of Shri. Jalaram Bapa. Here the devotees come from all over india to see the actual belongings of "Shri Jalaram Bapa" which includes his clothes and jholi which was known to be gifted to him by god itself.
7. Champaner-Pavagadh Archaeological Park
In the Champaner- Pavagadh Archaeological Park, you can find almost eleven places to visit. You can walk there or you have an option to take a car too as some people have walking problems. There is Sahar ki Masjid , Jami Masjid as well as Minar Masjid which are in very good conditions. All these places takes area about 3-5 km surrounded by the walls of the fort itself. A must visit place from Vadodara. It even has all the facilities to enjoy the Mataji temple. There you find a rope way and for people with knee problems you should know that there are very less stairs.
8. Shaking Minarets
The Shaking Minarets is situated pretty much near to the railway station and can be seen from the arrival or departure of trains!! There are basically two minarets. One got damaged unfortunately during an earthquake although the whole lace is well maintained. The buildings are clean and tidy too. The architecture is beautiful and could be seen from railway station too. People are told that if any one of the minar shakes the other one starts shaking too.
9. Teen Darwaaaza
The Teen Darwaaza is near to Bhadrakali Temple in the old city Ahmedabad. It has local market nearby and you can enjoy shopping there but just like local market don't forget to bargain!! The teen darwaaza is one of the old Ahmedabad city entrance which is located opposite to the Bhadra fort. The 3 arches can be seen on this darwaja The Darwaja has beautiful cravings, so basically you can watch the darwaza and the beautiful architecture and enjoy shopping with friends too!!
Top 10 places to visit in Gujarat (Religious Sites in Gujarat)
10. Somnath Mahadev Temple (Somnath)
The Somnath Mahadev temple is famous for its historic beauty with a great beautiful sea view. The Morning darshan is a way you can start a day with Lord Shiva blessings. No camera and cell phones are allowed in the temple and there are lockers provided. Outside the temple there are people who click pictures. The atmosphere is very peaceful and calm thus one should surely visit.
11. Akshardham Temple
The Akshardham Temple was built in 1992 on 23 a acre plot and is in located in Gandhinagar, Gujarat, India. There you can find a mandir in centre stage which is built from 6000 metric tons of pink sandstone brought all the way from Rajasthan. It is known that it took 13years to build the Mandir. The fascinating thing about this mandir is that there is no steel or iron used anywhere in the mandir. It has a 7 feet tall gold leafed statue of "Swaminarayan" .this place has a water view and in the evening there is a water show also conducted which is a must watch show. The experience is beautiful. This place needs a whole day to be visited.
12. Shree Swaminarayan Temple Bhuj
As Gujarat is full of Temples. The "Shree Swaminarayan Temple Bhuj", is one of them. You should visit definitely during the aarti timing as people come from all over India comes for this part. Some area of mandir is restricted for women though but other than that it is a wonderful place.
13. Nageshwar Shiva Temple
The "Nageshwar Shiva Temple" gives you an opportunity to get closer to the Lord in a very quiet place. You get some peace of mind by offering puja to the Lord here. The place is beautifully build and very peaceful. One must visit this mandir as it offers great peace.
14. ISKCON Temple
The Iskcon is always been a lovely place to visit anytime you visits. Not only the place is beautiful but it also provides you with calm atmosphere and peace of mind too. The place is very clean and sore to eyes. A must visit place.
img src ~ ahmedabadtourism.com
15. Shri Ramakrishna Ashrama
The "Sheri Ramakrishna Ashrama" is a very beautiful place with garden and a temple. Lots of students visit this place, you see family too here. The place has beautiful gardens with lovely flowers which surrounds the temple and increases the beauty of the temple. You will find many students on weekends and a great place to visit.
16. Gomti Ghat
The "Gomti Ghat" is a very clean and well maintained ghat. There are many temples on the bank of the ghat .If you visit the place in the evening you can buy floating diyas which is the speciality here. People buy them and light them in the evening to float in the river. The view is adorable and breadth taking experience.
17. Nilkanth Dham Swaminarayan Temple(Vadodara)
The " Nilkanth Dham Swaminarayan Temple" is beautifully carved and magnificently built, always well maintained, clean and is a delight to visit. The Nilkanth Dham Swaminarayan complex is situated on the bank of River Narmada at Poicha Village. It is a very large temple and have more than 1000 idols of different deities.
In addition to "Bhagwan Shri Swaminarayan"  the other main attractions are  Lord Vishnu, Lord Ganesha, Lord Hanuman, Vishnu avatar darshan, 108 Gaumukh and many more. The evening aarti of "Bhagwan Shri Swaminarayan" is a divine spiritual experience one can have. The positive vibes you get here are really energetic.
img src ~ http://neelkanthdham.org
18. Shatrunjaya hill temple (Palitana)
The "Shatrunjaya hill temple" There are two ways up, one of them is from Palitana and the other one is from Adpur which is a village ride from tuk tuk approximately of 5 miles. The climb from Palitana has more steps and has pilgrims whereas, the climb from Adpur is found to be a little steeper.
19. Jama Masjid (Ahmedabad)
The "Jama Masjid" is situated in the old city of ahmedabad. This is a beautifully build mosque and has great architecture. Obviously due to religious reasons you are suppose to cover your head before going inside.
20. Rukshamanee Mandir
The "Rukshamanee Mandir" is an ancient. This temple is basically located in the Lord ne of sight to the "Dwarakadeesh temple", although it is smaller than the Dwarakadeesh temple. Temple tower has beautiful intricate carvings and one can also see the erosion due to the sea water and the wind.
Top 10 Places to visit in Gujarat (Gujarat points of interest
)
22. Girnar (Junagadh)
The "Girnar" is a very old mountain in Gujarat and peak its the peek in Gujarat. It is one of the holly place of "Maa Ambe". If you really want to connect with nature it is must one of the top 10 places to visit in Gujarat. It is truly the Beauty of Junagadh.
23. Kala Dungar (Kutch)
The "Kalo Dungar" also known as the black hill was named so, because it served as a landmark, known to be a black mound from far-far away usually during the 6 odd months, when the entire Rain is flooded with salt water. This is the highest known point in Kutch.
24. Chintamani Jain Temple (Surat)
The "Chintamani Jain Temple" is one of the oldest Jain temples in Surat. This temple was built under the reign of the Emperor "Aurangzeb" at the end of the 17th century. It has a deceivingly simple exterior but, is remarkably crafted from inside. The beautiful vegetable dye paintings covering the wooden pillars topped is its speciality.
25. Tapovan Temple (Vadodara)
The "Tapovan Temple" is known to be a very old temple. This place is beautifully built and also known for its greenery. It is the most visited place for meditation and finding peace. People often visit here to find peace and enjoy the green leafy look. The place helps you to connect to the nature.
26. Amdavad ni Gufa (Ahmedabad)
The "Amdavad ni Gufa" is an interesting result of what Doshi and MF Hussain designed together. Here the art, colour and the space together make a wonderful combo. Long time ago this was a place just to sit and read art book with a store on the same level. The name of this place is changed now nevertheless the place still holds its old charm, with the Zen cafe an Art gallery next door, the Gufa is basically part of a lively easy place to visit.
27. Aksharwadi Temple (Bhavnagar)
The "Aksharwadi Temple" is quite big with such great architecture like pillars. It's a tension relief visit to this temple. The place is very well maintained and so clean that you will want to visit this place again and again. They even provide you with food facilities .If you are in Bhavnagar you should definitely visit this place.
28. Table Point (Saputara)
The "Table Point" is a couple of hundred metres uphill from the ropeway boarding point. If you like to have little fun and adventure then this place where you can do horse riding, camel riding, bike riding and many more activities like this. The view from this place is cool and breezy but if you are in search of some place to get some solitude then this is not it.
29. Gopi Talab
Pilgrims from all over have their own imagination and perception of the very well known "Gopi Talab" it is known to be the place where the Lord Krishna would play his flute and Gopis would be dancing around. However, this place is now seems far from such an image carried and would be disappointing to you because no such thing is happening now. The redeeming aspect is that there is still a pond though which is not very much well maintained. Some beautiful peacocks can sill be seen around somewhere. You will surely find lots of small-small temples around.
30. Ashok Shilalekh (Junagadh)
The "Ashok Shilalekh" is a huge stone and the carving on it in Brahmi script in Pali language mentions the resistance to greed, animal sacrifice and also moralize the principles of purity of thought, secularism in thinking, kindness and gratitude.
31. Desh Devi Maa Ashapura (Kutch)
The "Desh Devi Maa Ashapura" near Bhuj, is a temple that draws countless devotees throughout the year. The temple is very famous. The temple is know to have the goddess Ashapura devi . She is the goddess of the community ( kuldevi). Mostly in the month of Chaitra there is festival celebrated in the temple. All the religious people will pry the goddess.